Commitment, on anniversary eve
On this anniversary eve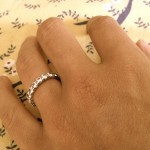 I feel surprised by how committed I feel,
Since commitment for me has felt the most foreignest of all the values,
Or Stones, we call them:
Love • Purpose • Wisdom • Community • Joy • Truth • Commitment
What a journey commitment has been
These 8 years, what a powerful backdrop to this learning
Marriage – and children – has provided.
In marriage, like anything, I discovered the

Power of commitment resides in the quality of attention.
What I attend is what I am committed to.
I am committed to what I direct and rest my attention on.
More on resting in attention next week … until then …
What are you attending to?
Where is your attention? 
What are you committed to?