Holiday Gifting: an inquiry
Wrapping presents for family and friends last night got me thinking: Is this enough? Is it too much? How do I know?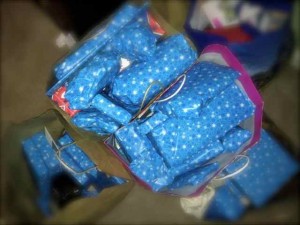 As I wrapped, I took inventory, I made score sheets, I compared and contrasted, I literally felt scarcity coursing through my veins. Some of the voices I heard had to be straight out of some marketing meetings, as if there was a central office designed to capture my attention: "Christmas is a magical time of year – so, Make Magic! Buy them everything they could ever want or dream of wanting!"
My mother had a system that I used to think was too much – electric scissors?! – but now I know why: it helped her find and stay true to her enough line, and supported her from literally breaking her back. (Note to self: no more wrapping on the floor. If you want more tips send me an email!)
Isn't the holiday season a time for expressing gratitude, showing the love we already feel? I like this part, turning holiday cards into thank you notes, and finding just the right thing or action to show my devotion. If only there wasn't this deadline….
My kindergartener's Santa list went something like: Jlry Mkr, Cmpdur, Fon, Cats, Dogs and something I could not quite decipher. Hmmmm… I don't play a great Santa, I admit. My husband worries that our second hand philosophy might make her feel less than. Haven't we crossed that bridge? Isn't consignment cool now?
I don't have a lot of answers this year. My practice: To allow new information to show up. To listen to those quiet voices. To feel those subtle sensations. To live in the questions and inside my declaration that I have, do and am enough already. That's the best I can do, and for this year, I stand in an intention that filling a few bags of things I thought meaningful and fun will be enough.